Skip Navigation
Website Accessibility
Sweet Scarecrow Kid's Costume
Sweetest Halloween Scarecrow!
While she may not be scaring away any blackbirds from your garden, any little girl can become the sweetest scarecrow for Halloween with this handmade costume.
You can pick up supplies right at your Walmart or neighborhood AC Moore store. Fat quarters (18 in x 21 in) 100% cotton Harvest and Halloween prints are in stores now.
Scarecrow Supplies Needed:
6 Fat Quarters – Harvest/Halloween collection 18 in x 21 in (45.72cm x 53.34cm)
1/2 yard (45.72cm) of coordinating tulle
Crochet mesh headband/stretch material
Long sleeve t-shirt
Embroidery floss or puff paint (orange and brown)
Rotary cutter, cutting mat and acrylic ruler 6 in x 24 in (15.24cm x 60.96cm)
7 in x 21 in lightweight fusible web
Pinking shears or pinking rotary blade
Embroidery needle #5
Iron and pressing surface
Instructions for Costume:
Note: Crochet mesh headbands should fit most children up to size 5. For older girls, measure waist, subtract 1″ (2.54cm) and use two headbands or stretch material; adjust to fit and sew ends together.
Do not pre-wash fabric. Cut fabric and tulle into strips, 2 in x 21 in (5.08cm x 54.34cm) using a rotary cutter with pinking blade or pinking shears. Cut 8 to 9 strips from each fabric and tulle. Reserve one strip of each fabric.



Fold strips in half; beginning at bottom edge of headband, insert fold into a hole to form a loop. Pull ends through the loop and pull tightly to create a slip knot. Skip the next hole and repeat around the headband, varying the fabrics and tulle as you go.




For the second layer: Starting at seam, in the second row, push fold through the hole from the front and pull tails through loop to form slip knot over the top edge of headband.



Following manufacturer's instructions, add fusible web to the wrong side of each of the reserved fabric strips. Cut into 2 in (5.08cm) squares.
Arrange squares on center front and elbows of t-shirt, overlapping as desired. Iron onto t-shirt as instructed.




Decorate edges with embroidery floss or puff paint to create stitches to secure the edges.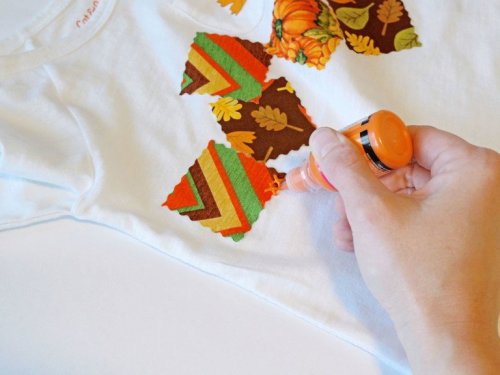 Add a straw hat and little makeup and your little one is ready for a spook-tacular day.