Skip Navigation
Website Accessibility
Valentine's Day Burlap Rosettes
Valentine's Day is known for roses, cards and little gifts to show our family and friends that we care. Spread some love with our quick and easy DIY fabric crafts. We have free projects for you, dear friends! First up is our Rosette.
You're not going to need a pattern, I promise this is quick and you'll love the rosette! The supplies you'll need:
Cut two 4 inch squares. We're going to create the flower shape without a pattern. That's right, no tracing and fussing! Here's how: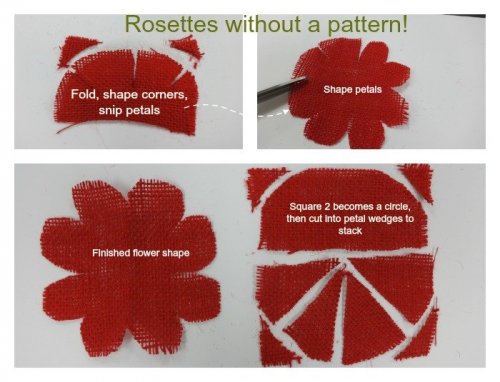 A dot of hot glue on every layer is all you need – no stitching. Shape the petals into soft curves, then fray to soften the look.

Finish with a special button. A cluster of pearls would look nice, too. Our burlap is sold in oyster and natural, too, so I added some extra petals and strips.
Keep loose, free form and natural and they'll work up quickly! Use as a gift-box topper, create a card for your Valentine's greeting, or wear as a corsage.